The Office of the Vice President for Academic Affairs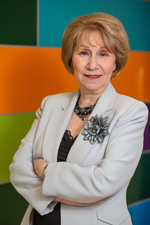 Welcome to South Texas College – A premier and world-class institution of higher education serving the students of Hidalgo and Starr Counties! I am delighted to welcome you to our website.
I am extremely proud of our students, faculty, and staff, and I am convinced that you will see why as you learn more about South Texas College and the over 100 degree and certificate programs available to you.
STC, although a young institution, has grown to meet the community's needs and challenges with innovation and excellence, both of which are reflected in our Comprehensive Mission. This determination to student success can be seen in all our Academic Divisions, as well as in all the student support services we offer. All you have to do is visit one of our six campuses, and you will recognize that the strength of South Texas College rests in its people.
As Vice President for Academic Affairs and Chief Academic Officer, I fervently believe that this is a most exciting time for South Texas College. Given our dedication to our region's prosperity, stewardship of our public's trust, the dedication of our faculty, and the vibrant student body, we can continue to transform lives for the betterment of our community.
Anahid Petrosian, Ph.D.
Interim Vice President for Academic Affairs
Chief Academic Officer