2013 Award Recipients Laura Leal
Business & Technology - Business Administration
Highlighted Technique: Just TEACH: Transferable, Empowering, Accessible, Current, Holistic.
On a mission to successfully teach in the "Clash of the Titans" arena, Laura Leal recognizes that instructors and most students from the Baby Boomer and Generation X are clashing with the Millennials. Tech savvy, demanding for quick feedback, and customer service, millennial students are team-orientated, multi-taskers, social networkers, and familiar with disruptive technology. She feels that college faculty has the responsibility to understand millennials and create effective teaching style for this generation.
To take grab of her responsibility in building a relationship with these millennial students, Laura developed and implemented her own teaching approach called Just TEACH. TEACH stands for: Transferable- applying teachings based on students' experiences and backgrounds; Empowering- students need feedback and social relationships; Accessible- delivering teaching material that is recognizable so that students understand it; Holistic- academics, economics and business all must be related when teaching students.
Dr. Annie Liss
Liberal Arts & Social Sciences - History
Highlighted Technique: Engaging and Challenging Students through Analytical Role-Play
Helping students engage in content, explore multiple perspectives, and foster critical thinking and writing skills in a multi-layered approach, Dr. Annie Liss asks questions that begin with "If you were..."
Using role-play in reading, and informal and formal creative writing assignments, students begin with reading assignments written by historical figures addressing a particular issue. Students are then encouraged to read "with the grain" and "against the grain", identifying the issues and different perspectives. Furthermore, they are asked to keep a journal from the perspective of a historical figure and are required to include a balance of historic facts with their interpretation of the emotions and thoughts. The students' engagement with these assignments leads to better communication and critical thinking, since they feel they gain more knowledge about the topic through this process because they have invested in their writing.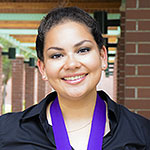 Monica Inez Gomez
Math & Science - Biology
Highlighted Technique: Reflection, Peer Collaboration and Learning
Implementing various styles of learning to accommodate different students by way of integrating the class with a multitude of teaching methods, Monica Inez Gomez' students participate in traditional lecture, audio-visual aids, web enhancement, discussions, and group work
Providing her students with the proper tools to enhance important skills such as critical thinking and problem solving, students can draw connections and find ways to relate the material to real life scenarios. Fostering an understanding and an appreciation for the various disciplines in science, students are able to apply the biological principles beyond the classroom and into organizations such as the Biology Club, Quinta Mazatlan's Birding 101, Adopt a Beach, and Upper RGV Relay for Life- American Cancer Society, to spread excitement/promote confidence about science and raise awareness on environmental issues.
---
Bio
Mrs. Monica Inez Gomez joined South Texas College fall 2011 as a Biology Instructor, teaching an emphasis in Anatomy Physiology I and Anatomy Physiology II. Mrs. Gomez holds a Master of Science in Biology from Texas State University-San Marcos and a Bachelor of Science in Biology with a minor in Chemistry from The University of Texas-San Antonio. She currently serves as the lead advisor for the Pecan Campus-Biology Club. As a relatively new face to STC and the Upper Rio Grande Valley, Mrs. Gomez has made it her priority to be actively involved with the campus and the community. She serves on several department committees; text book adoption, laboratory safety, and assisted with the recent revision of her departments core learning outcomes. With her guidance and supervision of the Pecan Campus-Biology Club, she and members have supported the Texas General Land Office: Adopt a Beach, Sea Turtle, Inc. South Padre Island, Lower Rio Grande Valley-National Wildlife Refuge, The Edinburg Scenic Wetlands RGV Coastal Expo, Upper Valley Relay for Life-American Cancer Society, Quinta Mazatlan-World Birding Center, Mobile Biologist Team Mission-CISD, McAllen-ISD and PSJA-ISD.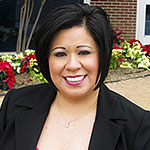 Nora Martinez
Nursing & Allied Health - Vocational Nursing
Highlighted Technique: Promoting Critical thinking through Clinical Simulation
To assist students to develop critical thinking skills which incorporate all past and present didactic instruction into a realistic simulation of clinical practice, Nora Martinez has developed Clinical Simulation Labs that have established a realistic correlation between Medical-Surgical Nursing, Maternal\Infant Care didactic instruction and the Clinical Setting.
Working closely with didactic instructors to assure scenarios are congruent with didactic instruction, Ms. Martinez has taken ownership of the Simulation Lab and has developed it to its intended potential by taking the time to do the prep-work before class/simulation lab so when the students are presented with the scenario, the experience runs as smoothly and as realistically as possible.
---
Bio
Nora Martinez joined the STC family in 2008 as faculty in the Vocational Nursing Department. Initially as a clinical instructor for level 3 students, incorporating nursing knowledge with hands on clinical practice as a way to solidify objectives covered in didactic. She has also taught Nutrition and OB to level 1 and 2 students. With 3 years in Labor and Delivery, 3 years in school nursing, and 3 years in Emergency Department, and 8 years as a Family Nurse Practitioner she brings 17 years of nursing knowledge and skills necessary to work effectively, efficiently , and ethically in the workplace. A graduate from The University of Texas Pan American with an Associates of Applied Sciences in Nursing in 97, a Bachelor of Science in Nursing in 01, and a Master of Science in Nursing Family Nurse Practitioner in 06. Recently, she transferred to the Associate Degree of Nursing Department as faculty assisting with didactic and clinical simulation in the areas of Pediatric and Obstetrics. Furthermore, she is currently pursuing a Doctorate of Nursing Practice from The University of the Incarnate Word and has an expected graduation date of December 2015.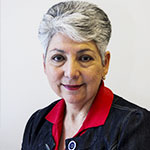 Meg Galvan
Nursing & Allied Health - Occupational Therapy Assistant
Highlighted Technique: Application of Critical Thinking Process to Clinical Practice in Occupational Therapy
Recognized for her exemplary teaching style and techniques that reinforce and produce excellent student outcomes, Meg Galvan utilizes hands-on laboratory experience as the standard method of providing learning activities that address psychomotor skill development in Therapeutic Intervention.
Ensuring that the hands-on repetition of psychomotor skills is necessary to develop competency, care, and safety students are required to practice these skills in the lab setting prior to directly applying to clients in the clinical setting. These skills may include fabrication of hand splints, application of physical agent modalities, activity analysis, grading of skilled OT interventions, etc. Feedback is the final component of teaching and learning of psychomotor skills as it reinforces the spatial detail necessary for complex analyses of psychomotor skill performance.
---
Bio
Meg Galvan has served as the Academic Fieldwork Coordinator and an Instructor for the OTA Program at NAH Division since the program started in 1997. She now has 16 years of teaching experience. Prior to her teaching experience she was employed as a Registered Occupational Therapist in several area Medical and Mental Health facilities in McAllen and Edinburg. Cesar E. Garcia
Nursing & Allied Health - Vocational Nursing
Highlighted Technique: Implementing High Fidelity Clinical Simulation for Learning in the Vocational Nursing Program
Instrumental in the development and mentoring of various faculty members in the use of simulation at the Nursing Allied Health Division since its inception, Cesar Garcia is able to incorporate high fidelity simulation in the LVN program to improve the student's ability to practice clinical situations that may not always be encountered in a traditional clinical experience.
The LVN students comment that Mr. Garcia is able to provide meaningful learning opportunities in simulation that challenge them and provide for experiences and practice that is not available in traditional clinical experiences. He has also performed research that has proved that high fidelity simulations provide for higher student self-confidence and improved learning compared to traditional clinical experiences. Mr. Garcia has also led the implementation of computer based learning management system into the LVN program and has conducted many student and faculty training sessions on the implementation of this system.