2014 Award Recipients
Distinguished Teaching & Learning Award
2014 Recipients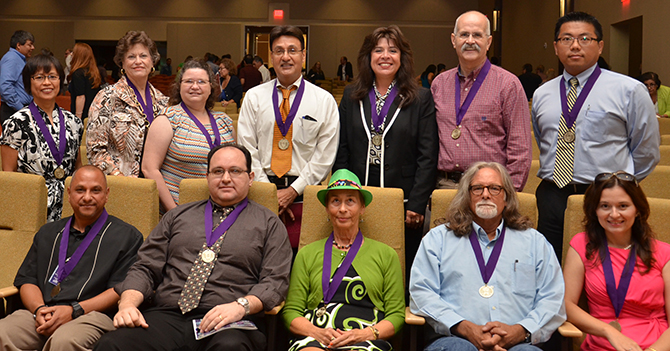 Front Row Left to Right: Ricardo Olivares, Nicolas Gutierrez, Diane Teter, David Freeman, Lyudmyla Dickinson
Back Row Left to Right: Skills Team, Miguel Garcia, Crystal Bird, Wayne Williams, Dr. Meng-Hung Wu
Not in picture: Edwin Tamayo
Miguel Garcia, Associate Professor, Business Administration, Business & Technology Division
Teaching Technique: Mixing it Up and Making It Fun!
Miguel Garcia, Certified Public Accountant since 1994, brings a vast amount of knowledge and real world experience to his accounting and business courses. He has customized his teaching techniques to get students to take learning seriously and have fun at the same time. In addition to theory, he brings in real life accounting situations and applications. Miguel observes how strongly students engage with the material when they have the opportunity to learn about how it applies in real life situations. He also takes the time to learn about what motivates his students, what they want to achieve and then finds ways to inspire them on their path.
Ricardo Olivares, Instructor, Human Resource Program, Business & Technology Division
Teaching Technique: Performance Management
Ricardo Olivares demonstrates how the theory of "performance management" can be put into practice in the classroom. Whether in face-to-face or online classes, he works closely with the students to ensure that their understanding, attitude and expectations are aligned with his throughout the semester. He creates assignments which students can immediately put into practice in their workplace.
Lyudmyla Dickinson, Instructor, Business Administration, Business & Technology Division
Teaching Technique: Using Art and Design to Teach Economics
Originally from the Ukraine, Lyudmyla Dickinson, has experienced the result of a variety of economic policies in a way that many students in the US have not. By sharing her some of her personal experiences with things like communism, inflation, stagflation, and high unemployment with her students, she is able to make economic theories come alive. Lyudmyla uses art and design as powerful teaching technique. As an example, she has her students create a flyer on the negative effects of credit cards. Her students then share the information with their peers outside the class. This activity motivates students and helps them demonstrate a deeper understanding of the consequences and responsibility of using credit cards. Lyudmyla is a believer that hard work with passion can and does change lives.
Crystal Bird, Instructor, Radiology, Nursing & Allied Health Division
Teaching Technique: Teaching with Enthusiasm
Mrs. Bird has a unique way of engaging the students' attention in every lecture by transmitting energy and enthusiasm to them. Students get contagious with her energetic way of teaching. She teaches with this love and passion that students get interested in the subject. She mentions that it would be so much fun and easier to use the same lesson plans from the previous semesters to avoid stress. However, every semester she decides to incorporate new projects to engage the students' interest.
Skills Team - Vocational Nursing Faculty, Nursing & Allied Health Division
Teaching Technique: Creating Consistency in Instruction of Nursing Skills
The VN Skills Team has worked together to develop a comprehensive method of didactic and lab instruction utilizing the theory and skills they have gained during their education as MSN nurse educators as well as their many years of nursing practice. They have developed a uniform approach to instruction that ensures that students at all campuses receive the same information in didactics and are uniformly taught nursing skills.
Wayne Williams, Instructor, Heath Care Student Success, Nursing & Allied Health Division
Teaching Technique: Using NAH Presentations in Career Assessments
Potential healthcare students are presented with all eleven healthcare professions at STC though they may already have a particular direction in mind. This provides them with a stronger understanding and foundation for making decisions about educational choices and many discover new and more appropriate professions. These presentations are coordinated with program chairs and instructors in the eleven programs and after include students who are already in the NAH program. Program students provide a particular reality to the requirements and commitment of healthcare education. The affective domain and corrective development in the student's mind strengthens them as they prepare six-nine-twelve months before entering a healthcare program at STC.
David Freeman, Instructor, Visual Arts, Liberal Arts & Social Sciences Division
Teaching Technique: Public Art Billboards
David Freeman demonstrates to his students that art can be used as a tool for social awareness. He creates hands-on learning experiences that allow students to utilize visual images to impact community awareness. As part of the Public Art Billboards assignment, students create billboard displays with socially-conscious themes that combine fine art, graphic design, and photographic images. David has forged partnerships with local billboard owners to showcase student work. They have created displays on such topics as: public health (smoking, drunk driving, obesity), education (student retention and success), and controlling the pet population. Students gain valuable design skills while also performing a service to the community.
Diane Teter, Associate Professor, Biology, Math, Science & BAT Programs Division
Teaching Technique: Contextualizing Biology Through Hands-On Projects
Creating a tangible connection between students' day-to-day lives and the complex subject matter of biology is the most effective way to ensure student learning, according to Diane Teter. Many students find biology to be one of the more challenging courses with the core curriculum, and a holistic approach that makes the content relevant to students' lives improves their success. In order to ignite interest in biology, Diane has designed a multi-faceted semester project in which students create a written report on their choice of the following topics: nutrition (diet & exercise), gardening, aquariums, terrariums, or a topic of their choosing with instructor approval. Based on the scientific method, the project allows students to experience hands-on learning while collecting data, conducting analysis, and applying critical thinking skills.
Nicolas Gutierrez, Instructor, Computer Science, Math, Science, & BAT Programs Division
Teaching Technique: Employing Robotics to Teach Programming
While Nicolas Gutierrez knows that programming is a challenging subject for many students. He believes it is important to remind them that programming can be fun and rewarding. Students learn C++ in three different courses: Fundamentals of Programming I, II, III. It is in the second C++ course where Robotics is introduced. This allows students to apply what they learned in the first course and see the relevance of everything they have learned so far. Students can see how each of the difficult topics covered in the first course had a meaning. A competition is held that challenges students to work harder to achieve a goal. The goal is to program the robot to perform better than the other student's robot in a Maze, a Race, and Sumo. After the competition, the students are more willing to learn new material and the class atmosphere is much more productive.
Edwin Tamayo, Instructor Biology, Math, Science, & BAT Programs Division
Teaching Technique: Enhancing Student Learning of Anatomical Structures Using Digital Photography
A majority of students in Anatomy & Physiology find it overwhelming to identify and memorize all of the anatomical structures within a limited number of laboratory sessions. Edwin Tamayo has introduced digital photography as a technique to enhance learning. Using their own digital cameras, camera phones, tablets and iPads, students in small groups take pictures of actual laboratory models. After verifying the accuracy and quality of pictures, students then label their pictures to plug-in the anatomical details based on the laboratory manual and word bank provided. Then, Edwin checks for the accuracy of the labels. The labeled images serve as review materials in preparation for laboratory practicals and quizzes and are compiled into a laboratory portfolio for each student. Students have shown significant improvements in successful completion rates since this technique was implemented.
Dr. Meng-Hung Wu, Instructor, Computer and Information Technology- Math, Science, & BAT Programs Division
Teaching Technique: Challenging Programming Students Through Mobile Application Design
Dr. Wu inspires, guides, and challenges his students while maximizing their critical thinking skills. He teaches his students that a good idea is the foundation for writing a great app with the potential to generate revenue. Dr. Wu helps spark student creativity for their iOS development project by showcasing popular apps in the market from a variety of categories to match student interest. Because apps can use different programming languages and platforms, Dr. Wu challenges the students to think critically by utilizing the programming skills they have acquired from previous courses. By staying current in this rapidly changing field, Dr. Wu keeps STC students on the cutting edge of app development.