2016 Award Recipients
Distinguished Teaching & Learning Award
2016 Recipients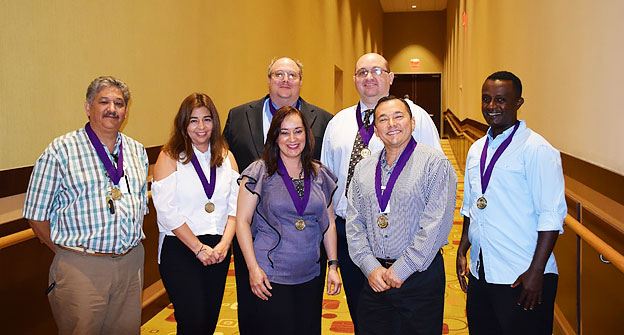 Front Row: Juan Ochoa, Delia Magdaleno, Rosa Linda Cuellar, Mario Olivera, Suleyman Tufa
Back Row: Daniel McInnis, Nicolas Gutierrez
Not in picture: Jose Garza
Rosa Linda Cuellar, Sonography Instructor
Teaching Technique: Bridging the Gap: A Technique for Creative Learning
In Ms. Rosa Linda Cuellar's obstetrics course, the students are required to learn how fetal circulation differs from adult circulation, which is a very difficult concept for the students to comprehend. In utilization of her creative learning technique, Ms. Cuellar asked each student in the class to develop a placental fetal circulation out of the materials of their choice. The purpose of the activity was to require each student to map out the fetal circulation from the placenta into the baby's body, through the heart and liver, and through the extremities.  All of the students created very different models in completing this project.  Some projects included models made of plaster, clay, or foam; one student even baked and decorated a cake that demonstrated a clear comprehension of the topic.  After each student presented his/her model to the class, they took them to the NAHC library so that they could be showcased for the remainder of the division. This activity was not only fun for the students, but it also showcased their hard work, which gave them a boost of self-confidence and pride. 
Jose Garza, Marketing Instructor
Teaching Technique: Engaging Students through Opportunities to Help Small Businesses
One concern many employers have upon hiring someone straight out of college is that these young, inexperienced graduates will not have the real-life experience to understand the intricate and unspoken workings of the business world. However, Mr. Jose Garza offers a solution to these fears as he takes an innovative approach with his marketing classes. In order to provide his students with hands-on, relevant experience, Jose seeks out small businesses who would not normally pursue professional services due to budget restraints. Then Mr. Garza offers his students the opportunity to provide these services, helping not only our local, small business, but also providing the students with valuable experience. Furthermore, students have the chance to truly explore the career path and determine how they should move forward in the pathway. Through these assignments, Mr. Garza's students are making a real difference for their local community. 
Nicolas Gutierrez, Computer Science Instructor
Teaching Technique: Incorporating Game Design Projects to Enhance Student Learning
As a student, taking programming classes, Mr. Nicolas Gutierrez always wanted to be able to program something amazing. However, most of the times his instructors largely covered material from the book. As a result, Mr. Gutierrez decided to give his students the chance to challenge themselves with something which required a lot of effort, but that could also be fun and rewarding at the same time. Thus, he implemented a one month project into his third C++ class (COSC 2336). For this project, students are required to: 1) Write a minimum of 7000 lines of code; 2) incorporate 7 classes of reasonable use and length; 3) Include all material covered so far. Only material learned in the current or previous classes is allowed, and the students are also required to present their final programs to the class along with a brief explanation of the code. Because of this experience, students are able to create their own games which they enjoy playing with their peers and families. Because everyone will be watching and playing along, the student makes sure the games they program are visually stunning and they try harder to make it more appealing to play. This project boosts the students' confidence and gives them a sense of achievement. More importantly, it re-invigorates the student's passion for learning and continuing on the path to a degree in Computer Science.
Daniel McInnis, Visual Arts Instructor
Teaching Technique: Universal Design to Reach All Students
In the classroom, Mr. Daniel McInnis uses Universal Design to reach all students by posting all PowerPoint presentations on Blackboard as well as all supplemental information to enhance and engage student learning. Moreover, he gives his students a choice of what type of essay/book review/research assignment they would like to complete. As a class he lets them choose the deadlines for assignments within the context of certain guidelines. He also gives the students the opportunity to choose what type of test they would like to take, to reach the many different learning styles within the classroom. Each test addresses the same objectives and students have up to three different exam choices available to them. These include but are not limited to multiple choice, short answer, or essay test. In addition, instead of dropping the lowest test grade, he allows students to replace one test grade with a written outside assignment that covers the same essential skills and knowledge of given test. Finally, Mr. McInnis requires students to submit copies of class notes twice a semester, where they are uploaded (anonymously) to Blackboard where all students can have an equal access to reviewing each other's notes, in case they have missed class, may have missed a point when taking their own notes, were unable to adequately take notes, or are in need of assistance. Through these various techniques, Mr. McInnis strives to meet all students' needs and maximize student learning.
Delia Magdaleno, World Languages Instructor
Teaching Technique: Internationalizing the Curriculum
The study abroad experience for students is that of an open and walking classroom, where every corner brings a chance to teach a new life skill or lesson. The students become comfortable with travelling, managing a budget, trying new foods, speaking with people from different cultures and in turn, they become more confident with themselves and their capabilities. The streets, parks, museums, palaces, and restaurants are explored and explained. The students continue to ask questions in Alhambras, Sevilla, Granada, Cordoba over the course of two weeks. In the classroom at South Texas College, Ms. Magdaleno brings these experiences to share with her students through photos she has made accessible to all in a Flickr account. Additionally, she designs assignments that connect what she is teaching in the classroom with the details they may find embedded in the photos. Videos were taken in situ and are shared with students through Flickr as well as YouTube. Many include sculptural figures that are important in the field of Spanish Literature. As students hear Ms. Magdaleno narrate her experiences, they feel more connected and respond positively knowing their instructor has brought the international experience to them here at South Texas College.
Juan Ochoa, English Instructor
Teaching Technique: The Boxer's Approach to Writing
When students take an English course, many of them are paralyzed with fear about writing, claiming, "I'm not a good writer." Mr. Juan Ochoa alleviates this fear of writing with his teaching technique, "The Boxer's Approach." His technique helps students visualize the relationship between sentences and ideas. This visualization allows students to pull thoughts out of their minds and onto paper. The analogy of a boxer throwing a punch to set up the next punch represents how a writer writes one sentence to set up the next sentence in a dynamic way to the student. His technique includes many boxing terms which correspond to the elements of writing such as a "left hook" as the "topic sentence" or a "jab" as a supporting detail or statistic. Overall, the technique appeals to students' love of sports and helps them understand the importance of "combinations" and "power punches" in writing not only for their classes but also when they engage with the community.
Mario Olivera, Advanced Manufacturing Technology Instructor
Teaching Technique: Manufacturing: Not Just a Career
With 21 years of manufacturing experience coupled with a management-level perspective, Mr. Mario Olivera teaches with a focus on maximizing student engagement and learning. As a result, Mr. Olivera provides his students with real-life application examples in addition to teaching the necessary fundamentals and objectives. For instance, he uses a team project on major air motor assembly to foster active learning. Teams are formed by levels of experiences, skills, and knowledge, resulting in real life simulations. Mario explains, "Manufacturing is not just a career. It's an everyday excited adventure creating better ways to serve, produce, and achieve customer satisfaction, based on knowledge, creativity, technology, and teamwork."
Suleyman Tufa, Biology Instructor
Teaching Technique: Flipped class-room and Accountability
Biology Instructor, Mr. Suleyman Tufa believes in student success and strives each semester to engage and challenge his students. Thus, he sets aside a significant amount of class time for the students to participate in active learning, including group discussions, presentations, inquiries, and questioning. The main purpose is to initiate student's engagement, provide hands-on activity, and encourage group learning. Furthermore, Mr. Tufa posts group Commitment Power Points on Blackboard ahead of time that the students may review. He also posts video links and associated online quizzes online. After each lecture segment, Mr. Tufa asks students to form groups and then discuss the lecture material openly. During this time, he questions the students and accesses their learning that he may ensure students are comprehending the material.