Faculty Community Service Award/Recognition
Distinguished Faculty Community Service Award
This award recognizes the efforts and works of faculty who go above and beyond expectations and embody the college's mission of improving the lives of the students we serve. Recipients of this award are catalysts in the presentation of cultural and educational activities, supporting the mission and integrity of South Texas College, and increasing faculty-student engagement.
---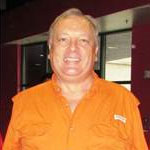 Tom Fuschetto joined South Texas College as an English instructor in 1997 and is one of our "icons" when it comes to faculty-student engagement. He mobilizes students to do extra-curricular work in a variety of ways and he is a founding father of theater and film productions. In spite of limited resources and space, he still manages after all these years to put on fantastic shows for our students and our communities. Mr. Fuschetto's "life" work that distinguishes him from all other faculty throughout the years is his student organization "Wild" (Writers In Literary Discussion), which puts on sometimes monthly, sometimes weekly, events ranging from film festivals, poetry readings, and art shows to complete theater productions. A much anticipated yearly has always been his Halloween event: "Haunted House," when he transforms our student union into a Halloween Haunted House. This event attracts thousands of community members with their families as well as our students. 
Another significant example of his community engagement activities is the "Marching Band of WILD" participation in McAllen's 4th of July parade. Volunteers dance, sing, or play various objects or actual musical instruments in the tradition of Spike Jones. One only has to do an Outlook search with the name "Fuschetto" and all his activities come up: "Table Manners of the WILD puppets", 4 performances at the IMAS; Silent Film: "The Haunted Castle"; Wild Poetry Reading, Musical Festival, and Art Show. The list goes on and on.
Moreover, another aspect of his faculty-student engagement are his creative teaching assignments, which not only encourage leadership and community activist skills, but also support individual growth through essays such as "my dream job" and personal journals on experiences. His syllabus contains items such as "How to survive when you are called on and do not know the answer," "How to write a last-minute paper," and "How to survive a boring class," through these examples how he manages to draw students in with humor and understanding of their phase in life. Mr. Tom Fuschetto's innovative teaching approach, his devotion to student-faculty engagement, and his persistence while devoting much private time and resources towards his exciting projects, make him a well-deserving candidate for the Distinguished Faculty Community Service Award.
Faculty Community Service Recognition
This award extends recognition to faculty members who actively engage our students and the community, and whose efforts serve the important function of promoting a "college-going culture." Through consistent efforts, hard work, and gusto, recipients of this award illustrate one of the College's guiding principles of fostering collaboration with educational and business partners.
---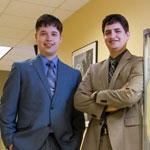 Alex and Eli Sarabia have 13 years of combined experience at South Texas College. Since they were hired, both have worked exceedingly hard in establishing an active psychology program at Starr County campus. They have also spent considerable time in developing an active and thriving Psychology Club. To list all the activities of the club would be difficult, but a list of the major activities that were organized or participated in 2015-2016 would include: Starr County's Got Talent Show, held three times a year to raise money for an annual psychology scholarship; Starr County Role Models seminar, held every semester, inviting leaders in the community to present to all students on campus. Speakers have included psychologists, mayors, lawyers, television personalities, business leaders, and world light heavyweight boxing world champions! They have helped to develop the annual Orientation for First Year Psychology Students at Starr County, and held Annual Mental Health Awareness and Autism Awareness activities.
Moreover, they host a Crossing Disciplines seminar, where invited speakers present on different occupations and National Eating Disorders Awareness Week. They have created an annual Starr Psychology Club calendar as a fund-raising activity; and held numerous Community Service activities, including Cancer walks, Starr County fair, nursing home visits, Don't Drink and Drive, Texas A&M College of Nursing McAllen Campus partnered with the Starr Psych Club for a toiletries drive to benefit South Texas Empowerment of Women Center (STEWC), numerous television shows to advertise for STC Starr County campus and promote Psychology Club activities, ADA fairs, earth day recycling activities, Child Abuse Prevention, and Starr County Special Olympics.
The energy and devotion given to these activities far exceeds what might be expected from any club advisor. They have promoted STC and created a positive relationship with local and regional leaders in Rio Grande City and Starr County. The Psychology Club has developed a "can-do" attitude and is frequently contacted to participate in local and regional activities. STC receives positive feedback from these leaders often, thanking us for these dedicated faculty and students.