eFaculty of the Year Award
The Division of Academic Affairs recognizes the extraordinary contributions and quality service of faculty members supporting the mission of the South Texas College. The Faculty of the Year award honors faculty who are committed to student success and teaching effectiveness; provide college service and leadership; are engaged in professional activities; are involved in community service, and who have demonstrated commitment to creating a college going culture. The faculty member is recognized during the Fall Academic Affairs Convocation.
2019 eFaculty of the Year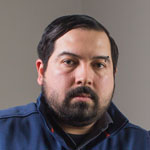 Each semester, evidence of Nicholas Hinojosa's dedication to student success can be found in his positive course evaluations and accessibility to his students. Mr. Hinojosa provides access to a dedicated phone line using an application called Sideline where students may receive his assistance anytime via phone or text. As part of his communication strategy, he uploads all his instructional videos to YouTube which provides automatic captioning for his students through speech recognition technology. According to Mr. Hinojosa, one of the most effective communication strategies used in online teaching is to always provide students with constructive feedback and praise on their assignment submissions. This encourages students to reach their potential and succeed.
As assistant program chair for the Computer Science Department, Mr. Hinojosa assists with the design of courses used for the competency-based version of the Computer and Information Technologies Program (CITP). He recently shared his CBE course shell design with the Community College Baccalaureate Association (CCBA) during their 19th Annual International Conference. As a Computer Science instructor, Mr. Hinojosa provides his online students with free software that can be used to complete their coursework, such as text editors, integrated development environments (IDE), open source operating systems, network simulators, and virtualization software. As part of Mr. Hinojosa's innovative practices, he also provides his students with customized Linux distros that contain all the tools needed for the course. In his Advanced Web Design course, he teaches his students how to deploy websites and databases to a remote server where they can be shared publicly. This affords his online students with real-world experience.
Mr. Hinojosa takes advantage of the features available in the learning management system (LMS) to coordinate group work. Students can choose their partners and register for a group using sign-up sheets within Blackboard. Another form of student-to-student interaction can be found through his participation requirements in discussion forums. Students must not only respond to the prompt, but they must also review other posts in the forum and reply to another classmate for a grade.
Mr. Hinojosa strives to always improve the learning experience for his students online and serves as a leader of distance education for his department. He never hesitates to share his methods and techniques with his fellow colleagues. His goal is to always provide his online students with a learning experience that is the same as being in a physical classroom or even better!
Computer Science Instructor
Division of Math, Science & Bachelor Programs
Master of Science in Information Technology
University of Texas Pan American 
Bachelor of Applied Technology in Computer and Information Technology
South Texas College
Associate of Science in Mathematics
South Texas College
---
Previous Awardees

| YEAR | NAME | DISCIPLINE |
| --- | --- | --- |
| 2018 | Dr. Hanan Amro | Mathematics |
| 2017 | Cynthia G. Sanchez | Business Administration |
| 2016 | Darci Cather | English |
| 2015 | Richard Lubben | Art |
| 2014 | Robert Sean Kennedy | History |
| 2013 | Tom Matthews | Art |
| 2012 | Pablo Cortez | Dev. Math |
| 2011 | Dawn Taylor | Speech |
| 2010 | Rogelio Escaname | Criminal Justice |
| 2009 | Max Abbassi | Biology |
| 2008 | Debra Wyatt | Speech |
| 2007 | Becky Jones | Art |
| 2006 | Jessica Schnee | English |