2017 Award Recipients
Distinguished Teaching & Learning Award
2017 Recipients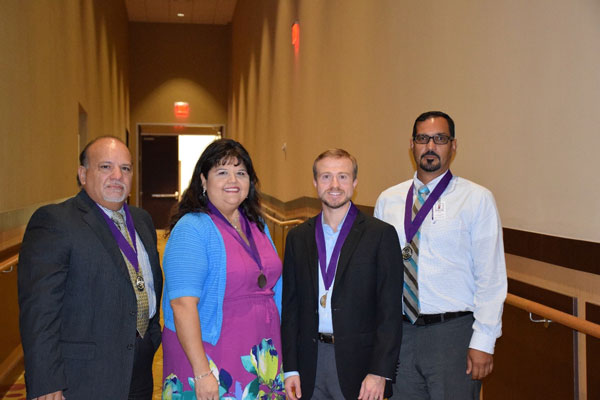 Left to Right: Juan Hernandez, Laura Salas, Daniel Cather, and Santiago Nunez
Not in picture: Elmer Esguerra
Daniel Cather, Music Instructor
Teaching Technique: Making Music Interactive – Enhancing Classroom Experience with Course-specific Apps and Technology
As iOS applications continue to improve, it has led to host of helpful resources for musicians. By incorporating these course-specific iOS applications into his music courses, Mr. Daniel Cather offers his students many advantages as they begin to understand the technology they will encounter in upper level courses. Additionally, by incorporating this technology, Mr. Cather enhances student engagement, creating a more interactive classroom environment and providing students methods to practice outside the class. Furthermore, Mr. Cather uses AppleTV to stream iPad applications to the projector in a couple of his courses. Students are able to demonstrate their knowledge by writing, tapping, playing along with audio, and interacting with the material through the iPad. 
Through these processes, students learn actively: performing (with live audio via apps), writing on the app, tapping rhythms for each other and discussing mistakes, identifying chords, scales, keys, and notes collaboratively, and interacting with course material. Mr. Cather's teaching technique engages students of different abilities by being student-specific, appealing to different learning styles, and allowing students to collaborate, engage in discussion, and interact with course content.
Elmer Esguerra, Associate Degree Nursing Instructor
Teaching Technique: Applying Principles of Nursing Informatics in Developing Evidence-Based Remediation Interventions to Improve Student Outcomes
As a faculty member of the Associate Degree Nursing Program and Assistant Chair for the Mid-Valley Campus ADN Program, Mr. Elmer Esguerra is a registered nurse with extensive clinical experience in medical-surgical and critical care nursing and is a self-taught informatics expert. During the fall 2016 semester, Mr. Esguerra decided to implement several changes in the Leadership & Management course by changing how students select the sources for their weekly 100 NCLEX-style quizzes. Historically, students were instructed to use any NCLEX review source; however with this change, students had to use the HESI Exam review materials, already provided to them online. 
To ensure that the changes were effective, Mr. Esguerra reorganized and classified the required quizzes to categories that focused specifically on Medical-Surgical nursing. He then extended the quizzes to other categories such as Maternity/Pediatric/Gynecology, Mental Health, Fundamentals, Management of Care, and Pharmacology. In doing so, students were provided a comprehensive, weekly review until they took the HESI Admission Assessment (A2). Additionally, Mr. Esguerra revised how remediation for the HESI diagnostics was made and started to guide the students on how to read and understand the HESI report. He outlined a detailed and custom remediation procedure based on the HESI report.
When looking at the student data from fall 2015 to spring 2017 regarding the HESI A2, there was consistent
improvement in performance from cohort to cohort, with the overall class outperforming the national mean scores among BSN and other ADN programs. Overall, the use of data is not only essential but is also critical in supporting students' individual success and allowed the ADN program to develop a more systematic evidence-based remediation intervention that provided opportunity for students' success. Such would not have been possible without Mr. Esguerra's innovation and initiative.
Juan Hernandez, Computer Science Instructor
Vigorous Tactical Teaching Style through SIMNET
With over 30 years of computer science experience, Mr. Juan Hernandez utilizes his experience and knowledge when preparing students for the workforce. As a computer science faculty member, Mr. Hernandez employs a vigorous tactical teaching style that enhances the academic high school core graduation requirement while simultaneously encouraging his dual credit students to establish and attain short term goals. His teaching style integrates foundations of Constructivism which allows students to draw on their own experiences to build on new knowledge through hands-on experiences and Humanism which builds on the ability of the student to solve future problems through critical thinking. Mr. Hernandez's rationale for using this approach is based on the benefits the students will gain by building a basic foundation for computer science, all while advancing to higher and more complicated courses. In implementing the vigorous tactical teaching style, all of Mr. Hernandez's students graduate with a Microsoft Office Certification. This certification is not easy and can be the determining factor in hiring.
Antonio Santiago Nunez, Healthcare Student Success Instructor
Teaching Critical Thinking Using Patient Scenarios and Bloom's Taxonomy of Learning
With a Doctorate in Medicine from the Universidad Del Noreste-Mexico, and an Associate of Arts from the Universidad De Puerto Rico, Dr. Antonio Santiago Nunez has been a member of South Texas College's Vocational Nursing program since 2008. During this time, Mr. Antonio Santiago Nunez has implemented patient scenarios and Bloom's taxonomy of learning within the curriculum for students to truly understand the NAH field. In doing so, Mr. Nunez provides students with guided instruction and questioning to move them seamlessly through the exercises. Students have the opportunity to gain real-world experiences as they research symptoms and determine possible causation and treatment strategies. Additionally, students are able to utilize all three learning styles as they research online, discuss in small groups, use interrogatory requests, and verbal, auditory and tactile areas of their learning.
Laura Salas, Associate Professor of Architectural & Engineering Design Technologies
Creating a Maker Space
With over 16 years teaching experience, Assistant Professor Laura Salas is a faculty member in the Architectural and Engineering Design Technologies Program. In this fast paced and growing job market in the Architectural and Civil Engineering field, Ms. Salas utilizes real world projects to give the students an understanding of the expectations in the workforce. Students get to experience the entire design process with 3 steps: 1) initial sketches for concept design and preliminary ideas, 2) going through the process of developing their design and 3) building this design into an actual physical model or prototype using 3D printing.
For the process to work, Ms. Salas introduces the class to real life "clients" outside the classroom. Students have served Dr. Reed herself in designing buildings for her review. Additionally, the students are given the opportunity to be creative and interpret the assignment based on their level of knowledge and expertise, while following certain requirements. Students work in collaborative groups and are exposed to the type of learning and working environment that exists in the workforce. Students learn time management and how to communicate their ideas and interpret the ideas of others and evaluate all
different options of the design. Furthermore, Ms. Salas has the students create a presentation to their "client", as they would in real-life. Not only are students gaining hands-on experience, they are developing soft skills and the confidence to take on any project.